Written by Laura Brown
Category: Backyard Exploring
The Obsolescence Project. 2013 – Ongoing. Initially begun as a 30 day photographic blog project, it became a 365 day blog documenting things that are obsolete or about to be, about the nature of obsolescence and occasionally a modest and brief history of stuff.
Source:
The Obsolescence Project - Photography by Deanne Achong
Written by Laura Brown
Category: Urban Exploration
Sasha Kurmaz is a Kiev-born photographer. In his 2013 book, Concrete & Sex, the artist reveals that his personal interest in architecture stems from his graffiti background, where he trekked the city in search of good locations for his art. "While walking, I kept looking over the city. This is the magic of these brutal shapes; functionality, and a frank expression of materiality," he says. "During these trips I have always done pictures to remember the place and go back at night to paint – sometimes I just shoot the landscapes of the city."
Via dazeddigital.com
Written by Laura Brown
Category: Maps
People have always been curious about the world around them and the development of maps has echoed this historical fascination. Maps were once considered to be valuable objects and were treasured by their owners and regarded as works of art in their own right. These objects attracted the attention of artists as well as skilled draughtsmen and maps became quite ornate and decorative items, capturing the imagination of those who wondered what lay beyond the horizon. Early maps tended to reflect what people knew or remembered and were largely topographical in nature. Often, these early pieces depicted myth and lore, combining to create "living maps" that were passed form generation to generation. Formalising the topography into early maps, knowledge became standardised and sowed the foundation of early cartography. By the Middle Ages cartography had slowed in that accuracy became replaced by religious depiction through maps. Examples of strong belief can be seen in some maps where the Holy Land is shown to be at the centre of the earth. Another example is Europa Regina by Johannes Bucius which shows an early and elongated map, depicting Europe as the Queen of the World. The Age of Seafaring during the 16th and 17th centuries saw new interest in map making, particularly the British and the Dutch taking to the seas and exploring new lands. At this time maps became increasingly artistic. An East Indies map in tropical colouring with pineapple trees and other exotic flora and fauna, designed to capture the imagination and evoke the scent of spice in the air is a typical example. As the demand for cartographers grew in the 17th century the artistic nature of maps from a purely functional item to a work of art began to evolve. Maps were often decorated elaborately with sea creatures or mythical characters. Many of these very accomplished draughtsmen created quite unique works of art from map making. Maps designed by Petrus Plancius (1552-1622) or Abraham Ortelius (1528-1598) were frequently found embellished with intricate pictorial content. A successor to Abraham Ortelius was the Dutch cartographer Jan Baptist Vrients (1552-1612) who designed Obis Terrae Compendosia. The world is split into two hemispheres and surrounded by ornate and detailed pictorial decoration. The map brings a perception of how the world looks and a plethora of exotic creatures and landscapes from the far flung shores of the globe. Another famous example is Nova Totius Terrarum, designed by Henricus Hondius (1597-1622), a Dutch Cartographer. This 17th century map is an ornate depiction of the world and is surrounded by detailed nautical scenes, perhaps reflecting the age and drama of exploration by sea as mythical creatures rise from the ocean and men are seen contemplating their journey. Antique maps are increasingly popular in the modern home and make elaborate tapestries in home décor. There are a number of ways in which an antique map can add charm and elegance to the home, whether in poster, print or tapestry format and are much appreciated by connoisseurs of good taste. Copyright © The Tapestry House, all rights reserved. About the Author: Angela Dawson-Field writes extensively on home decor and tapestry & textile art. The Tapestry House http://www.thetapestryhouse.com/products/index.html http://www.thetapestryhouse.com/
Source:
Reprint this free article (318215) by Angela Dawson-Field at Isnare.com Free Articles Directory
Written by Laura Brown
Category: Backyard Exploring
Junk collectors and urban explorers have a lot in common.
We both like old, neglected, forgotten stuff. There are treasures tossed out on sidewalks, ditches and parking lots. Explore your local area from the perspective of a freecycler or junk picker (there are other names for it, too many to list). What can you find to make an interesting photograph from the discarded stuff people glance at and walk right on by every day. Found objects are interesting and you can decide whether to leave them or take them (there are less ethics when something has been thrown out rather than being on the property of an abandoned building).
If you collect found objects (in a theme?) you could create a study of them in your photographs. What are there differences? How were they found? Could they still be useful in some way?
If you leave discarded objects where they are you could see how they change as time passes. Some may get taken, kicked around or moved in one way or another. Some will not fare well in the outdoors with rain, wind or sun.
Either way, discarded things are worth noticing and available right in your own local area - without bending any laws.
Todd Fisher's photos of New York in winter show us slushy, dirty snow. Household objects, TVs, and chairs, have been chucked unlovingly onto the street. The home comforts look strange in their new, hostile setting.
via -
Dazed - The photographer mourning the loss of dirty NYC
Written by Laura Brown
Category: Ontario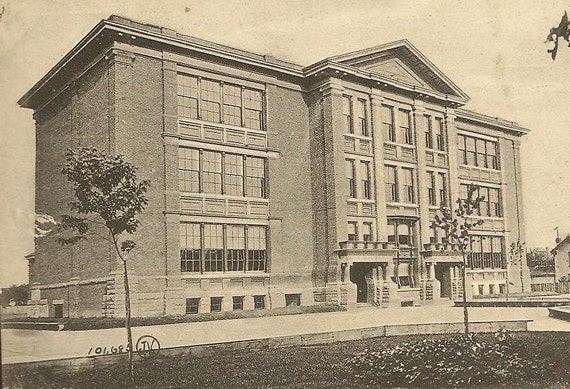 The imposing and grand architecture of the Queen Alexandria School on Broadview Avenue in Toronto is now gone from the landscape yet it is captured here on this vintage postcard for future generations. I believe the school was built around 1905 and demolished in the mid 1950s.
via - 
Queen Alexandria School Broadview Avenue TORONTO by TheOldBarnDoor
The real challenge would be to see what (if anything) is left of the white house to the right in this colour postcard I found online.
Written by Laura Brown
Category: Road History
Ontario Road Map
  - Road map collector. Site by Neal.
The King's Highway
- The history of Ontario's King's highways. Site by Cameron Bevers.
Ontario Highways
- Site by Christopher J. Bessert, Cartographer, GIS Specialist, Highway Historian.
The Ontario Highwayman
- Site by Chris Beach.
The King's Highway Ends Site
- Old site by Earl Andrew Washburn.
Ontario Road and Highways
- Yahoo group (active).
Asphalt Planet
- 
Ontario
, Quebec and US road history and photographs. Site by Scott Steeves.
Historic Roads
- Dedicated to the identification, preservation and management of historic roads. Site by Paul Daniel Marriott & Associates. Washington, DC.
Historic Bridges
- North American bridges.  (
Ontario link
). Site by Nathan Holth.
misc.transport.roads
- Google Groups.
Have you found a lost road and photographed it?
They aren't that tough to come across. Read local history to find where routes were changed. Not every road grew into a bigger road, some were bypassed and forgotten. Those are the old roads to look for, or to start with. As you find old roads you will soon find other old and forgotten roads. Bridges too. What about dead ends, do they count as a lost road or not? Meanwhile, the links above will get you started with your own research and exploring.
Information for Highway Explorers
I found some US highway history.  Likely the information will be similar for Ontario and Canadian highways and roads but... that will be another post. So far I found a lot of Canadian (and Ontario specific) resources but I haven't done the research yet.
Prior to the Federal Interstate Highway system, the United States was criss-crossed by roads built by for profit groups. During the 1920s many of these roads could barely be called roads as they were more mud, dirt and ditches than road. But, as Henry Ford continued to churn out automobiles, more and more of these state highways popped up across the landscape. Most of these roads followed old trails or Transcontinental Trails like the Oregon and Santa Fe. One of the first transcontinental highways was the Lincoln Highway from New York to San Francisco. It was a rock road and privately financed; Henry Ford wanted nothing to do with it because he thought roads and highways should be funded by the government. As the 1920s progress other groups formed to build and promote their own highways. By 1925, there were over 250 named highways, each with their own colored signs, names, and random sign placement. Without government oversight, many of these roads were re-routed into cities so that the clubs and groups that built them could profit from them. In the midst of this chaos, the Federal government got involved in 1924 and started numbering all of these roads. Odd numbers ran North to South with the numbers increasing from East to West, and Even numbers run East to West with the numbers increasing from North to South. So, U.S. Route 1 runs along the Eastern Seaboard while U.S. Route 10 runs along the Canadian border. When the Interstate Highways came along, the government decided to use the mirror image of the numbering system to avoid any confusion. Interstate 10 runs through the southern states while I-5 is in California. Thankfully, the government was wise enough to help avoid the classic "How could you get us lost?" fight between drivers and map readers. Where the two systems, the routes and the Interstates, meet in the middle of the country it was decided that there would be no Interstate 50 to avoid confusion with U.S. Route 50 which runs from Sacramento, CA to Ocean City, MD. This is the same for Interstate 60.
via -  
9 Things You May Not Know About the U.S. Interstate Highways | From The Kitchen Cabinet
When the Interstate Highway Act was passed, most Americans thought it was a good idea. But when construction started and people, especially in urban areas, were displaced and communities cut in half, some started to revolt. In the 1960s, activists stopped construction on highways in New York, Baltimore, Washington, D.C., and New Orleans, which resulted in several urban interstates becoming roads to nowhere. The red, white, and blue shields used to designate interstate numbers are trademarked by the American Association of State Highway Officials. The original design for the shield was drawn by senior traffic engineer Richard Oliver of Texas and selected out of 100 entries in a national design competition in 1957. A major concern during Eisenhower's presidency was what the country would do in the event of a nuclear attack. One of the justifications for the building of the interstate system was its ability to evacuate citizens of major cities if necessary.
via - 
10 Things You Might Not Know About the U.S. Interstate System | Mental Floss
Written by Laura Brown
Category: Canada
This art postcard features the work of Canadian artist John Innes and was published by W G Macfarlane for Linton Brothers of Calgary. It is part of the Troilene Indians series and shows several Indian riders bundled up and making their way through blowing snow. "The blizzard is not a snow storm. The snow frozen by the intense cold to the consistency of sand is picked up by the fierce Northwest hurricanes and travels at terrific speed. Many lives are lost during these blizzards yearly". The card has an undivided back although the sender thoughtfully created one. The card is postally used and cancelled in 1906. Good overall condition makes this a wonderful addition to a collection.
via - 
Canadian Artist John Innes Indians in a Snow by TheOldBarnDoor