Written by Laura Brown
Category: Ontario
Save Ontario Shipwrecks is a Provincial Heritage Organization in Ontario dedicated to the study, preservation and promotion of an appreciation of Ontario's marine heritage. Incorporated in 1981, SOS is a public charitable organization of dedicated volunteers from across the Province. Operating mainly through a group of Local Chapter Committees supported by a Provincial Board of Directors and Provincial Executive, our volunteers have undertaken many worthwhile projects and activities.
Source:
About | Save Ontario Shipwrecks
Written by Laura Brown
Category: Ontario
Nottawasaga Lighthouse one of National Trust for Canada's Top 10 Endangered Places. Erected in 1858, the Nottawasaga Lighthouses was one of six Imperial Towers built to light the shores of Lake Huron and Georgian Bay. The whitewashed limestone light rises 95 feet above the shore, guiding ships to safety in Collingwood Harbour. It played an important part in the establishment of safe navigation routes along the coastal waters of Lake Huron following the opening of the Bruce Peninsula. Deemed unsafe, the lighthouse was decommissioned in 2003 after an engineering study noted that the lighthouse's exterior masonry, which had been damaged by lightning strikes and subsequent water infiltration, was at risk of collapse. A year later, a portion of the masonry crumbled. Though the Department of Fisheries and Oceans invested $400,000 to stabilize the remaining façade starting in 2005, it has since been abandoned and, without swift action, is unlikely to survive many more winters.
Source:
Nottawasaga Lighthouse | The National Trust for Canada
Written by Laura Brown
Category: Ontario
I'm meeting my Uncle for lunch tomorrow. I looked up the restaurant on Google Maps to see how to drive there. I checked the street view and found this abandoned motel almost across the street. It may already be demolished. Google's images were not very recent. The motel was boarded up and behind a construction fence. The area is loaded with new strip/ box stores so quite likely the motel won't last long if it is still there at all. See
No Pattern Required - Friendship Inn Maple Farms Motel – Road Trip To The Past
 for images of the motel taken from a brochure in the 1970's. Update - August, 2016 The hotel was gone. No sign it had ever been there at all.
Source for the last photograph:
Michael Helmer Photography
Written by Laura Brown
Category: Ontario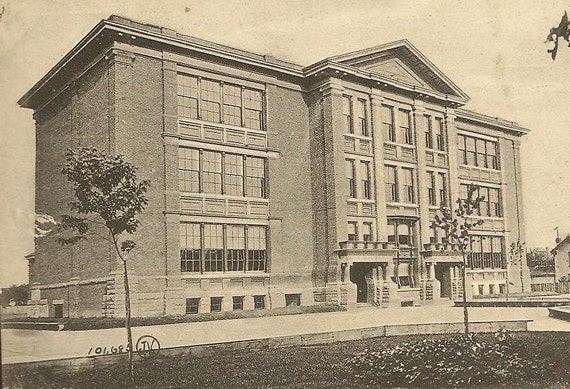 The imposing and grand architecture of the Queen Alexandria School on Broadview Avenue in Toronto is now gone from the landscape yet it is captured here on this vintage postcard for future generations. I believe the school was built around 1905 and demolished in the mid 1950s.
via - 
Queen Alexandria School Broadview Avenue TORONTO by TheOldBarnDoor
The real challenge would be to see what (if anything) is left of the white house to the right in this colour postcard I found online.
Written by Laura Brown
Category: Ontario
Source:
Missing Links and the 1966 Plan
The people behind the Missing Links site (because I like to know):
James Alcock B.A. (Urban Planning) James Alcock is an urban planner and an expert researcher, specialized in analysing with objectivity the macro trends of the GTA transportation needs from all angles, and then coming up with a set of recommendations taking into account our motorists' safety and the most efficient use of our existing infrastructure and budgetary resources. Born in the U.K., he moved to Canada with his family in 1969 and settled in Toronto, graduating from the University of Toronto in Urban Planning in 1983 ( Honours B.A.). James' professional links with energy and transportation are very broad, which enable him a wide scope of analysis and a special ability to link various factors into a realistic proposal. As a matter of fact, he has held responsibilities linked to the Canadian car industry and market (through work on General Motors' brands positioning, and surveying the burgeoning development of electric cars for a major manufacturer). He also contributed to the extension of Ontario Hydro power lines across the province. He even evaluated the availability of transportation and community services to a large portfolio of commercial properties managed by Merrill Lynch Real Estate. Most recently, he was a research and analysis specialist at the Canadian Automobile Association, where he performed research for five government affairs specialists to help determine motorist safety policies in conjunction with the Ontario Trucking association, involving media and political contacts, and liaising with officers of foreign sister institutions in the US, Australia, and the UK. James's major achievement, on the Community involvement front, was the co-authoring, on his own personal time from 1990 to 1999, of 'Get Toronto Moving', the first ever citizen-designed transportation plan for the City of Toronto, produced as a contribution to solve the City's growing gridlock problem, emphasizing a balance of new roads and transit with neighbourhood preservation. This plan was championed by the C.A.A. and won him the position of planning advisor to the Executive Committee of the Scarborough Residents' Association. Bruce H. Bryer B.A., B.Ed. Born in North Bay, Ontario and educated as a teacher, Bruce H. Bryer is a veteran of the Toronto transit system, being employed by the Toronto Transit Commission for 25 years. He has cared about improving Toronto's public transit system and has made many suggestions for the upgrading of the efficiency and safety of the system. Some of his ideas include innovative suicide prevention barriers at subway stations. He has also analyzed transit systems all over the world and made notes of the best that they can offer for Toronto. He is a strong advocate of smart card technology to ease and integrate public transit fare systems. Bruce is an advocate of balanced transportation, and he strongly supports completion of Toronto's long-shelved Queen Street Subway in order to relieve downtown gridlock and to improve transit service to Toronto's central business district. He is responsible for putting together the Public Transit section of the 'Get Toronto Moving' plan. Bill P. Lansing Bill P. Lansing, President of the Citizen's Transportation Alliance, was born in the heart of downtown Toronto. A university student and former professional driver, he takes great pride in his home city, and intends to improve upon it even further. He has travelled extensively throughout North America, and has always maintained an interest in urban freeway systems and rapid transit. Bill was instrumental in developing the freeway and rapid transit plans for "Vision 2030", which is the long-term vision of 'Get Toronto Moving' as well as responsible for the creation of our corporate logo and byline. A firm supporter of economic and political growth and development, he is currently active in promoting the CTA mission and recruiting new members. Kevin Walters, P.Eng. Born in Toronto, Kevin is a civil engineer with many years experience with roads and traffic systems. He is a strong advocate of balanced transportation and has made detailed analyses of Toronto's traffic problems. Travelling to Florida, he noticed the efficiency of the offshore bridge system, particularly in Tampa Bay. His idea was to adapt this system to Toronto. In 1990, he authored the proposal for the Gardiner Expressway Offshore Extension and the Humber Bayway. This was forwarded to Ontario Provincial officials and greeted with enthusiasm. He also put together proposals to eliminate the flooding problem in the lower Don River. From 1996 to 2000, Kevin was pivotal in fighting the demolition of the eastern Gardiner Expressway from the Don Valley Parkway to Leslie Street, which in time was proven to bring more traffic into his nearby neighbourhood, as he had predicted. Kevin also came up with the Scarborough Highlands Expressway proposal for the Gatineau Hydro Corridor and all of the arterial road missing links. He authored the roads section of the 'Get Toronto Moving' plan. He is currently employed with one of the largest engineering consulting firms in Canada. The Late Eli Ophek Eli lived in the North York area of Toronto and was married with three children. A member of the Toronto Bay Group, he was an advocate of revitalizing Toronto's waterfront. He was involved in many studies on the future of the waterfront. Eli proposed the complete removal of the Toronto Island Airport and its conversion to parkland for the public to enjoy. He advocated the construction of a new waterfront airport further east off the Leslie Street spit. Eli was an outspoken opponent of demolition of the Gardiner Expressway and supported the Offshore Extension as proposed in 'Get Toronto Moving'. He highlighted the importance of Toronto's waterfront to the 'Get Toronto Moving' plan. Eli passed away in 1998 and is sadly missed by the other authors of this plan.
Written by Laura Brown
Category: Ontario
Toronto Secret Routes Their existence may be very well hidden, but the former Metropolitan Toronto did have a network of numbered Metropolitan Roads! The only place I have seen them referred to, is updates to the Toronto by-laws. They are most certainly not posted, although they may be hidden within serial/reference numbers on pieces of infrastructure (light standards, signal control boxes, etc.). Toronto's roads are referred to by the prefix "M.T." — e.g., Yonge Street is "M.T. 29". Like the Interstate system, all even numbers run east-west, and all odd numbers run north-south. Also similar to Interstates, numbers generally increase from west to east and from south to north, although there are many exceptions. Similar to Ontario's 400-series highways, controlled-access M.T. roads start at M.T. 200; these numbers appear to also follow the even/odd E-W/N-S rule, although this theory would be better proved with the discovery of a number for Allen Road (formerly the Spadina Expressway). (Update — December 2001! I have come across a map in a planning document which has provided insight into the numbering of Allen Road. Unfortunately the numbers are hardly readable due to over-photocopying and over-reduction, but the Allen Road number appears to be 21, which would tie it to Spadina Avenue — makes sense when you think about the original plans to tie the two roads together. Certainly it is a two-digit number, not a three-digit "controlled access" number.) As I have yet to see an actual list of route numbers, the following lists may not include all number designations. It does, however, include all Metropolitan Roads referred to in the past four years of by-law amendments (1998-2001).
Source:
Toronto Secret Routes
Note: The above content is copied (and screen capture) from a site which has been abandoned but is still findable with the Wayback Machine archives.  So far, I could not find the name of the original site owner.
Written by Laura Brown
Category: Ontario
Fathom Five National Marine Park offers some of the best freshwater diving opportunities in Canada. Clear, clean water, submerged geological formations (cliffs, caves, overhangs) and over 20 historic shipwrecks offer a variety of underwater experiences. Everyone, from the novice snorkeller to the most advanced diving enthusiast, can find lots to explore and enjoy within the park.
Source:
Tobermory is home to over 20 historic shipwrecks